Epping Forest, LONDON
​​Your local Business Womans Network Group
Fourth Thursday of Every Month*
(Not including school holidays)*
The King William IV
High Road
Chigwell
IG7 6PJ
Thank you for showing an interest in this event.
During the pandemic we are hosting 1 event a week (virtually) with amazing mastermind classes and a FREE hour of coaching from our Founder Mandie Holgate. Get in touch to book or call 01206 381482.
​
Pay as you go or pay once to the end of 2020 £35 with a special Golden Ticket. Golden Ticket gets you additional events for just £5 and writing for our blog for free – Learn more about a Golden Ticket here
Impacted on by Corona?
Pay just a donation, get in touch for more ideas we have to support you.
Redundant?
We've lots of free/low cost ways we can help – get in touch.
Sponsor this event? £100 includes a 10 minutes speaking slot, exhibitors stand, 1 ticket and business literature on every place setting and promoted across our The BWN marketing. (Golden Ticket price £75.)
Have you joined our 24/7 mastermind group – the perfect place to keep the momentum going, stay focused, get advice and research ideas confidentially. Learn more here.
​
23rd January – GDPR – Are you at risk of a huge fine? Could you be missing out?
GDPR was not a form to complete in 2018 and forget about:
• Did you know the Information Commissioner's Office (ICO) have already started issuing fines of £400+
• Can you spot the new scams – and do you know what to do?
• Are you worried you still aren't compliant?.
• Are you missing out on the benefits of a well planned GDPR Policy?
Are you being conned into spending money you don't need to?
Are you missing out on sales and opportunities because you fear getting GDPR wrong?
Why and how are the 'big boys' getting it wrong and what it means for you.
​
This "ask anything" interactive master class will ensure you learn exactly what you need to know. Robyn Banks has 20+ years experience and will make you laugh as you get your head around this tough subject.
​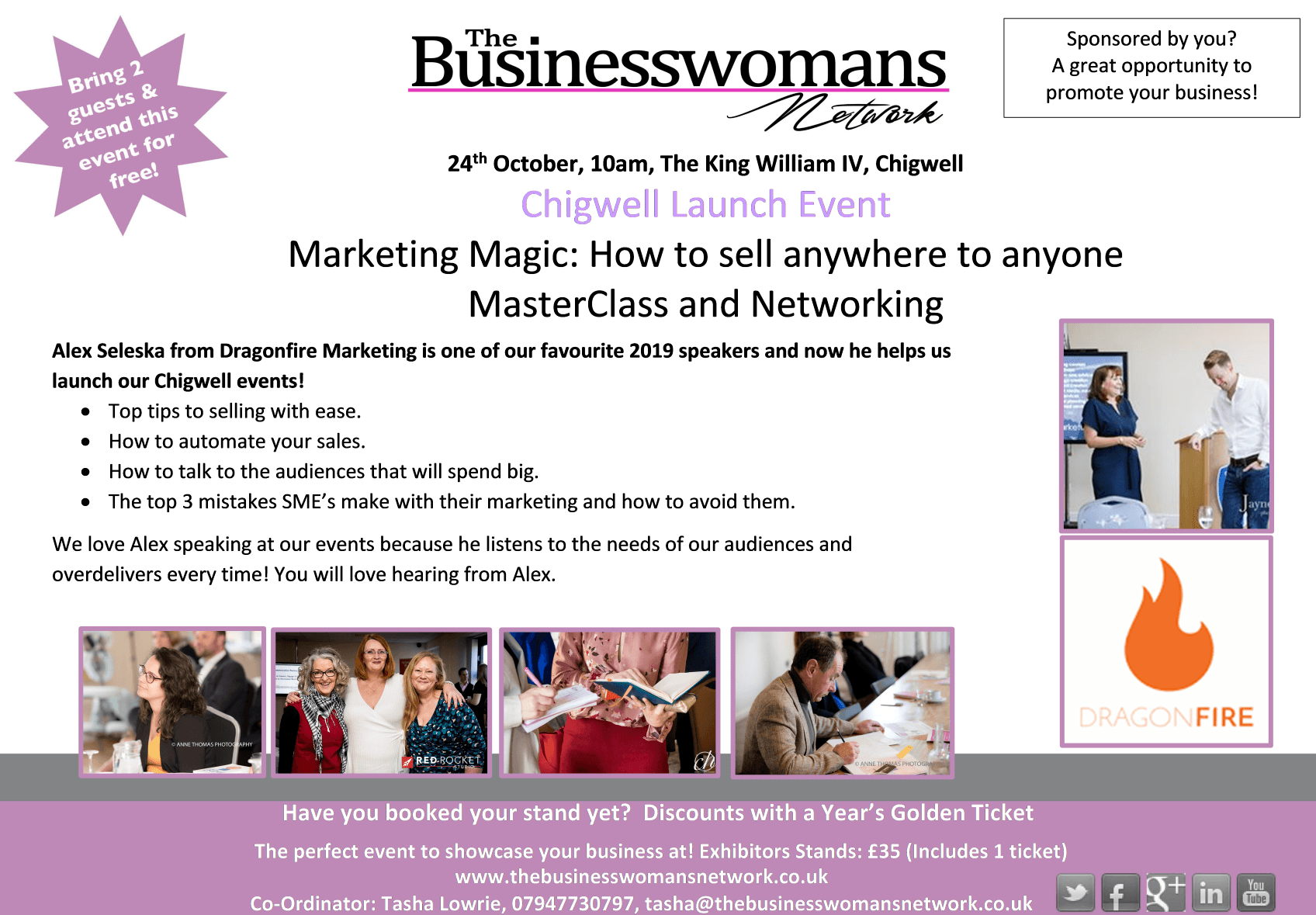 Sponsored by you?
27th February 2020 – Your Motivators to Productivity, Work Life Balance and finding the perfect clients!
How can 1 masterclass deliver so much? Because when you understand who you are, your patterns of behaviour and reward systems (yes we all need those!) you achieve more.
​Understanding your own powerful motivators can;
Help you to stay motivated.

Ditch the procrastination.

Create Power Patters to Productivity.

Enjoy a better work life balance.

And from the customers view point these Motivators can help you find the perfect customers and sell more!
Tasha Lowrie from Dream Box Education is a teacher who now specialises in working with people with additional needs. These very skills have been adapted to help Tasha create her dream business. Tasha has a natural fun style of communicating that means we want in! Tasha now hosts our Chigwell events and is a regular BWN attendee.
26th March 2020- Networking and Masterclass event
Don't see a subject you really want to learn about? Get in touch and we will do all we can to host a masterclass and / or Insiders webinar especially for you!
Not an Insider yet? Learn more here.
Find yourself free to attend at the last minute?
​
It's fine to just turn up on the day. Bring 2 guests to an event and attend that event for FREE!Would you like to learn more about why our network works for business, confidence, motivation and success? Read more about the structure of events and what to expect here.
Please note when booking our events that by purchasing a ticket and walking through our doors you are aware that we do take photos and short videos to enable us to further promote you and raise your brand awareness. If you wish to not be included could you advise us prior to the event and we will ensure you are not filmed or photographed.
London Coordinator – Tasha Lowrie
Tasha Lowrie from Dream Box believes that everyone has a right to achieve their full potential and to experience life in all it's fullness, no matter what!
With that attitude you can see why Tasha is perfect to host BWN events and is so passionate about her business!Dream box believe that the key to unlocking the hidden potential and ability of individuals with additional needs lies in empowering those closest to them; parents, carers, teachers and support workers.Dream Box offers a bespoke service for all our clients because everyone is unique. We will come alongside you to combine our years of experience and training in additional needs, with your knowledge and understanding of the individual. Together we'll find the best strategies and approaches for your personal situation.
Tasha wants everyone to feel as welcomed as she did when she first started networking and attending the BWN, so look out for this face and to learn more about the London / South Essex events get in touch here.
​​OUR SPONSORS
WOULD YOU LIKE YOUR BUSINESS PROMOTED HERE?
You can have your logo and contact information included on every page of this site with a link to your business for £475 through to the end of 2019! We were named as one of the top 15 resources in the UK for female entrepreneurs by 99 Designs in 2016. And our one of Small Business Saturday Top 100 businesses for 2017 (As featured in The Guardian) Would you like to get in front of our audiences?
​
​​GET PAID TO NETWORK!
Copyright 2018 ​The Business Womans Network
Insert Image