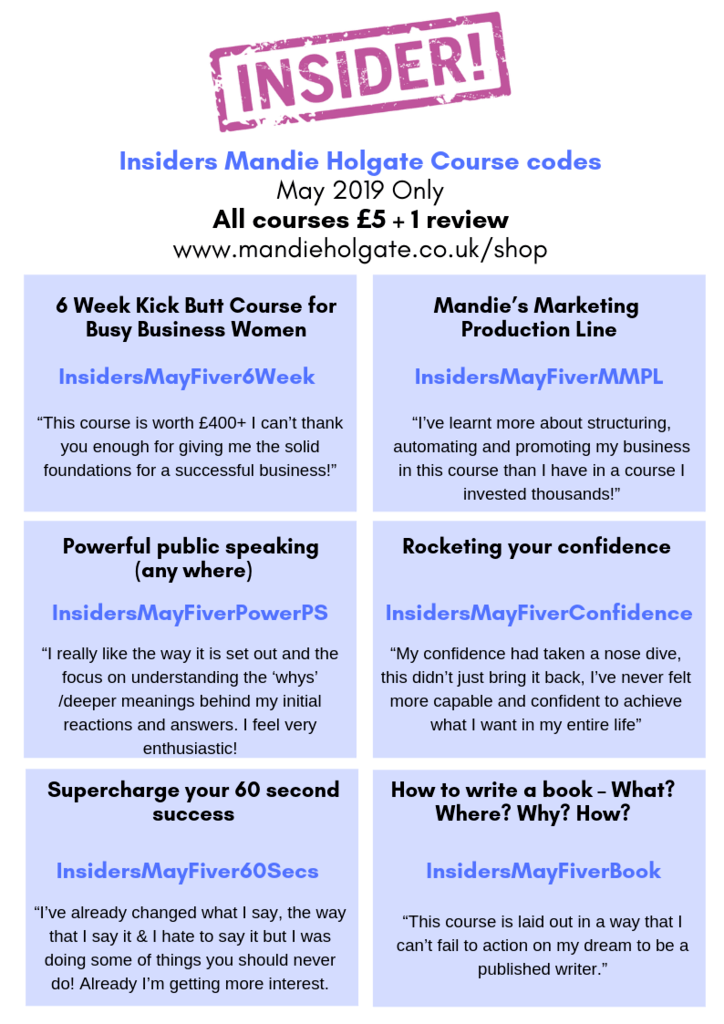 Insiders May Discount Codes – MH Courses
I want to be able to be there when and how you need.
To build your confidence, increase your sales, grow your profit margin, enable you to have an awesome work life balance, achieve what you wish, overcome your fears and be genuinely happy. (Is there something I'm missing? Do let me know.)
That is why I'm giving you these courses for £5 in May. 
(And because I've added a plug in that enables me to get reviews and I'd like some!)
Your review doesn't need to be 5 stars "love it!" Just honest.
I don't do discounts and I don't do offers because I work with the people I love, at a fair price and deliver with every fibre of my being, so there's no need to discount – a little top tip to ask yourself if free/discounts/and offers are working for you?
I've been told off by so many business women that my courses are far too cheap – yes that dangerous word!
Even my coach kicked my butt and questioned "What are you playing at?" The reason they are low cost is because I know this stuff works and I want to be there for everyone. And I can't physically coach everyone can I?
It's my mission, my passion and my happiness to help you – so do let me know how you get on.
(And ask yourself if you are working on the things that you are passionate with a clear mission and that bring you happiness – the reason I ask this because if you are not it can be very hard to stay motivated, to sell well and increase profit – So another tip to ask yourself.
ACTION; On the Insiders Facebook page you can post additional support requirements, research ideas and questions on the Insiders page and feel free to tag me so that I can assist further.
And if you are attending The BWN I'm more than happy to sit and have a chat before or after the event.
I do ask that you do not share the discount codes and don't forget they run out on the 31st of May 2019.
See which courses you'd like to take here