Coordinator's Love your business – here's why
We are very proud of our coordinators. They care passionately about your success and work hard to deliver the very best networking and business growth events in your area.  Here we hear from Nadine Gamble from Utility Warehouse who hosts our Tendring events and has jumped at the opportunity to host our Bury St Edmunds events from September too!
Why do you love the BWN so much?
There are many reasons that I love the BWN so much, I had never been to a networking event of any kind and
the BWN was my first foray into this world.  Initially for me it was the timing and the financial aspects that appealed, that was before I got to know more about the ethos of BWN.  So many other networking groups run very early in the morning (not suitable when you're a single mum that needs to get children to school)  and often come packaged with some rather steep membership fees and rules.   The fact that the BWN doesn't charge a membership and doesn't incur a penalty if you can't make a meeting is the flexibility that I need to have.
How does it help your business?
The BWN has helped me in so many areas of my business.   The biggest,  aside from the natural progression of gaining new customers, is it has helped my confidence levels rise in general which has helped me enormously with my work.   Just this week I hosted my businesses regional monthly meeting with around 40 people, I would never have said yes to doing this had I not had the positive experiences with the BWN.
For what reasons do you love being a coordinator?
I wanted to try my hand at being a BWN co-ordinator to develop and push my own personal skills further.  Public speaking has always been something that has filled me with dread, even the 60 second pitches would scare me.  Rather than running away from something that made me uncomfortable I knew that the only way I could get better  was to face it head on and actively look to improve myself by taking on new challenges.  I love being the person responsible for giving business women a great morning, filled with relevant information that is key to them not only in business but on a personal level too.  Being able to connect women who could really help each other out is a great feeling.
Would you recommend it to business women and why?
Hosting the BWN events has really helped me to grow as a person and develop my skills.  Being totally honest, there were moments when I wondered why on earth I had taken this on, and thought there were some things that a technophobe like me would never get the hang of! However there was, and continues to be as much support as I need in order to make a success of my events.  I would recommend to any business women who is thinking about hosting a BWN networking group to stop thinking, and start doing!  Obviously it is great for raising your own profile, but the biggest reward for me is bringing other ladies together who can really benefit from each other.
What inspired you to take on the role of a second venue? It's not even in the same county!
On a personal level this year has been particularly challenging to me, but without a doubt I always feel 100% better when I have hosted a BWN meeting.  The amazing women, the support, the knowledge, the learning, the inspiration,  it all goes such a long way in keeping me motivated within myself.  Seeing a group of like minded women connecting with each other is wonderful.  When I heard that a new location was in need of a host I knew that it was the next step in my BWN journey, it excites me that I can now bring to BSE what I have to Tendring.
What do you want to do for Suffolk business women?
I want to spread the BWN love and build a really solid group of business women in the Bury St Edmunds area.  Somewhere ladies can feel comfortable not pressured, empowered not judged, motivated and inspired to lead their best lives, personally and within their businesses.
How do you see your role?
Facilitating this, bringing people together and providing them with speakers who will add value to each and every woman who attends.  I want people to leave my events feeling awesome, feeling that they have invested a few hours into themselves and their businesses that will continue to have lasting effects.
What is your best/happiest moment of hosting a BWN event?
My first ever event was in November 2018, and I was terrified!  But I was also excited!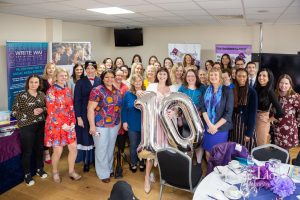 It went brilliantly, and for the first time I allowed myself to believe that I could actually do this!  But my happiest moment from being involved with the BWN has got to be when I was poorly in December 2018.  Mandie sent me a video clip of all the BWN ladies singing, just for me as I couldn't be there due to my incarceration in the local hospital.  For me it sums up the true ethos of the BWN.  Yes, we are all about business, and effectively helping each other, but we are also about looking out for each other, and that for me is where it all begins.