From Eco Business Queen to Film Props and Festivals – How to get Remembered and sell
Amanda Rutland has been an Insider for many years. Growing her Gourds from seeds and turning them into stunning lamps, jewellery and object d'art for the home that are sold around the world.
Working in the NHS Amanda is a great example of one of our members who never actually makes it to a networking event that we host, but benefits from our online community for sales, advice and ideas.
Winner of Kirsty Alsop's Hand Made Christmas, Amanda is not new to being a mini celebrity and knowing how to get her small business seen. Many of our members are into festival, fete and expo season and it's why Founder Mandie Holgate has written the new course How To Stand Out An Exhibition – Accelerating Business Growth & Success Through Proven Strategies to help our members get the very best out of every event you invest in.
But how to stand out?
How to get remembered so that even if people don't buy on the day they never forget you?
And why does it matter?
Amanda from Gorgeous Gourds knew while her products are stunning, it's easy to have a packed stand and people stroll on by, so what to do?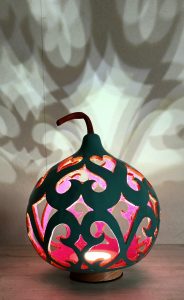 The ingenious marketing wizard crafted a gourd hat. Yes, seriously, a hat made out of a gourd. Amanda told us more "The bottle gourd I used was one of my big ones (not one of the ones sent to be used as props in the next Lord of the Rings – Rings of Power series like all my other biggies)." But that folks is a story for another day – lets just say when Insiders celebrate a win so do we all.
This madcap accessory turned heads, sparked curiosity, and attracted paparazzi-like attention at The Weird Wood Festival this May. And will see a lot more attention at all the events Amanda will be attending.
Who needs a Hollywood agent when you have a jaw-dropping gourd hat? The best advertising is the kind that has people snapping pics of you left, right, and center! Amanda added
I drilled my trademark swirly holes, added some coloured beads and painted my business's name on it. At the top, swirls and a heart were cut out, sanded & painted inside & out. Gourd seeds made into flowers & coated with silver leaf round the neck and the dried vine tendrils spray painted different colours & stuck in the top. Varnished & padding inside and voila!

Silly, mad, a bit unhinged and the hat fits!! 😆

So why does it make you feel like a celebrity? Because people took photos of me! Best advertising there is in my opinion! I had so much fun too ☺️

Mad hatting wearing business owner, Amanda Rutland from Gorgeous Gourds.
It's exciting to see our members achieve great things and you don't need a traditional 4 walls business that works Monday to Saturday to achieve great things. We aim to keep members up to date on trends and ideas that put them ahead of competitors so they stando ut.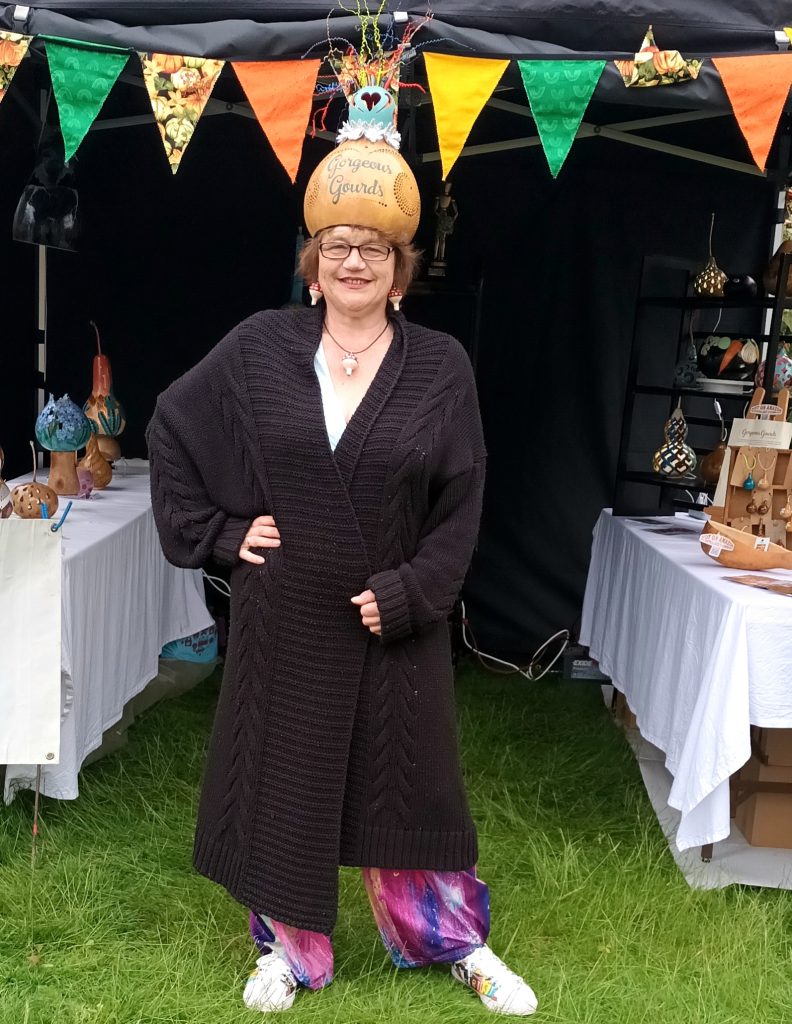 Did you know that eco business in the UK is booming?
According to The Department for Environment, Food and Rural Affairs (DEFRA), the sector pumps over £200 billion into the UK economy each year. And guess what? It's not just about the money; it's about the planet too. With around 1.3 million people employed in this sector, we're creating a greener world while topping up salaries at day jobs or creating our own empires.
Policies and Initiatives: The Government's Got Your Back (and Your Greenbacks)!
The UK government wants to see more eco businesses, with tax incentives, grants, and funding opportunities specifically tailored for sustainable enterprises like this. And we attract Eco businesses that are already helping businesses to be more sustainable like Louise Howlett from R A Brown Heating Services and Jill Robinson our resident Eco Queen.
Did you know that over 70% of UK consumers actively seek out eco-friendly products and services? People are jumping on the sustainability train faster than you can say "compostable cutlery." The demand for eco-conscious solutions is increasing fast, so Amanda has it sussed to be standing out with a gourd on her head – who would think that would lead to sales and great adverting and no need to end up discussing the weather or parking nightmares with a talking point like that!
So in case you don't fancy a gourd hat and all the attention what can you do to grow your eco business?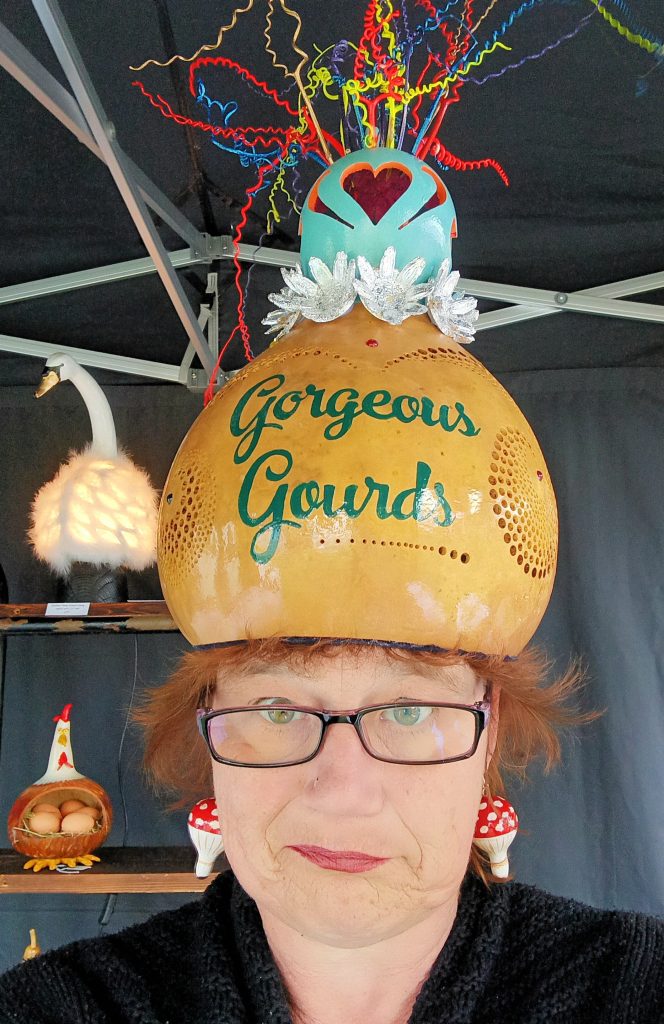 Know your audiences / niche / tribe (you name them!); Be the avocado in a sea of cucumbers. Do your research, find your niche (s), and become the go-to guru in that specific area. If you struggle with that post to the Insiders and we can help you or follow this link because this makes it so much easier to find, understand and communicate with your target audiences so they buy.
Speak up about your sustainability; Embrace eco-friendly materials, renewable energy, and get creative with recycling. Show the world that you're the real deal—a business that walks the talk. And make that part of your marketing (Insiders know that great marketing is not just about products and services). Videos, blog articles, newsletters and social media posts/reels/stories are all great ways to showcase your sustainability. And get people falling in love with your business!
Team Up for Success: Join forces with other eco warriors. Partner with like-minded organisations, suppliers, and distributors. Together, you'll be an unstoppable force, fighting the good fight against environmental challenges. And it halves your marketing time too!
Unlike Amanda's gourds that rely on holes to shine the light, plug the holes to your marketing. It's no good looking amazing at an event and then having a half hearted online presence. And it's dangerous to get in the press and find you are suddenly popular if you don't have the infrastructure for the sales explosion. On the Insiders you will a lot of advice about both of these subjects. Start with the 5 day sales funnel training to plug the holes in your sales funnel. Put simply consider the journey new customers take to get to you and how can you make that smoother and more automatic?
So when is a hat not a hat? When it's epic marketing!