Growth in Tough Times & an Opportunity for Essex Therapists
Here Helen Watson, Insider and CBT Psychotherapist, EMDR & EFT Practitioner shares how the pandemic had a positive impact on her now fast growing business and an amazing opportunity for Essex therapists looking to grow their businesses.
Working with others to make change is so rewarding. Only this week I receive a text thanking me, a year on, for the work we had done together
"You have changed my life, I didn't think I would make it to my 19th birthday and I never thought I could be this happy and so positive".  

Helen Watsons, client.
The thing is, that therapists are usually good at therapy but not necessarily used to running their own business – it's a learning curve and if I can help another therapist in building their business and reducing their stress levels in some small way then that too feels good! 
Being a self-employed therapist allows me to set my working hours, set my own fees, have full autonomy over my caseload level. It creates flexibility and balance in my life that is good for my own mental health. It allows me to go for a walk along the beach when it's quiet during a week day and to work around other commitments.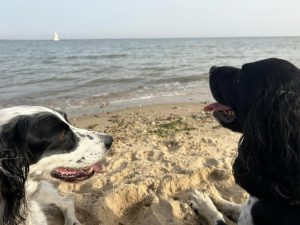 And so, (despite the pandemic) I now have amazing therapy locations in Colchester and Maldon. Although working online was essential during the pandemic and is still an option, so many of the people getting in touch looking for a therapist, really want to be seen in person. Having these spaces means I can do either (but clients nearly all comment on how lovely the consulting space is!) and I'm pleased too to be able to share the opportunity with other therapists and support them in their self-employment if they need it. Many of the therapists I have using the rooms just quietly get on with their practice but they know Beth and I are here too if needed.
I'm Helen Watson, a Mental Health Nurse by background and a CBT Psychotherapist, EMDR & EFT Practitioner. I am Clinical & Managing Director at Silver Street Clinic in Maldon https://silverstreetclinic.com/ and owner of Hathi Therapies in Colchester. https://www.hathi-therapies.co.uk/
And I have an opportunity for therapists in North Essex…
Silver Street Clinic is a lovely, listed building on the high street in Maldon with 5 consulting rooms. They are primarily set up for talking therapies, but we have a couch and flexibility to set up for other coaches, consultants and complementary therapists. We have a community of self-employed therapists who use our space and as well as general calls from the public, sometimes recommended by GPs or other professionals, we also receive referrals from occupational health services including from the emergency services and charities.
The opportunities for you and your business;
Room hire; hourly ad hoc or sessional (available 7 days a weeks, including evenings) – bring your own clients with you or book the space to catch up on your admin in peace with a cuppa and free WiFi.
Potential Client referrals –   we are particularly looking for a couple of experienced self-employed therapists with formal qualifications in CBT and/or EMDR who have experience working with trauma. And a psychotherapist / counsellor with experience working with adult neurodiversity. If you are another type of therapist / counsellor / coach / psychotherapist we may still have referrals for you too!
Visibility on our website – which has the potential to draw referrals specifically to you. And as an Insider I can promote Silverstreet through their site too!
Work self-employed but without isolation – set your own fee scale, work pattern etc but have access to a network of other therapists; many therapists feel apprehensive about taking the leap in to self-employment, but we can offer advice and support because we've been there! So you don't have to feel completely alone! (and one of the things I highly recommend is being part of the BWN Insiders of course!)
If any of this interests you, or you know someone who it might, I can be contacted on 07548 938654 or my partner Beth on 07732 066350 admin@silverstreetclinic.com Happy to chat!
And to all of you reading this….. How are you looking after your mental health today? YOU are a priority!
If you get in touch with Helen, please do let us know too. And thank you to everyone that shares our blog articles. It is really appreciated. We love growing small businesses and you are helping us to do that.