Clean up Our sea's and In Your business
It's amazing how powerful social media can be for small businesses. It's how I've grown my own business (well and my best selling books, but even they rely on a great marketing strategy that is heavy on the digital marketing.) and that of many many businesses I've supported.
I recently commented on a post from Hidden Sea Wines who have an ambitious plan to clean up ALL the oceans in the world. Having just returned from a Cruise around the Mediterranean I was shocked how bad plastic pollution is and chatting with Laura on the cruise from Orca a charity that monitors our oceans and marine life, it was clear that this is not just about happy fish, whales and dolphins. The health of our seas has far reaching implications for us all. But Mand, what's that got to do with my small business?
Seafood, tourism, and other ocean-based industries rely on clean waters. Plastic harms marine ecosystems that these businesses depend on and that impacts on businesses profit too.
Oceans absorb significant carbon emissions that cause climate change. Less pollution means healthier oceans to help regulate the climate. Fed up with a wet/cold/overheating summer? Our members are from Scotland to South Africa so we hear first hand how challenging this summer has been for many.
Local fishing and seafood bring millions in revenue. We need plentiful fish stocks for these small businesses and all of the businesses, charities and community projects associated with them.
Many UK small companies produce plastic packaging or products. Helping reduce plastic waste aligns with sustainability initiatives and increasingly (as Insiders know) your consumers want to know how you see yourself in the world and what you are doing to be fair, green and inclusive. Not only that, it improves your profit margins.
Reduced plastic pollution helps tourism businesses on the coast – like hotels, gift shops, marinas – by maintaining scenic beaches that attract visitors. More tourism brings these businesses more customers and revenue, even if the weather is lousy, the great British public love a day by the sea. But not surrounded by rubbish!
Now let's get really personal because let's be honest if you are a small business in a land locked part of the UK you might be thinking, "No seriously, Mand what's this got to do with us small business owners?"
Whether we want to face it or not, times are tough for many people (and businesses). And feeling connected matters. Having safe, clean natural places to enjoy helps. Helping charities helps small businesses. So even if you aren't on the shores of Western Australia or lapping up the sunset on Mersea Island, Essex, you can still benefit from this amazing campaign from The Hidden Sea Wine.
Small businesses that are active Insiders, know the benefits of supporting campaigns like this and they include;
A easy way to feature in the press. It can get hard work knowing what to write!
Showcase your green credentials.
Get remembered as a business that cares. With the faceless, tax avoiding giants spending millions on marketing, smart business owners are fast realising that personal branding matters. If you love the sound of the sea, swimming, paddleboarding or just fantising about a cruise (it really is the best!) then showcasing the things you are passionate about help people connect, bond and want to do business with you – it's a faster way to a thriving business and lots of new sales.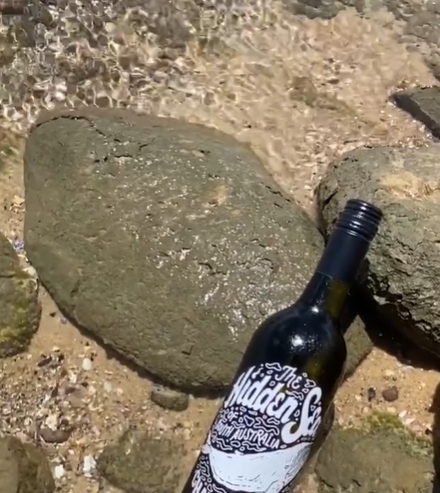 So hopefully I've convinced you it's worth supporting us in supporting Hidden Seas ambitious campaign. No?
Well what about if I told you we are hosting a beach clean up, networking and business growth event this summer with free wine?
We thought the free wine would get you!
Seriously though, the next time you are scrolling through social media wondering how to grow your business;
We can help you. So stop the scroll, join our business growth community and I personally promise we will be there for you. Our community is packed with experts from every industry you can imagine. Learn more here.
Look up a CIC (Community Interest Company) or charity and get behind them! We have a number of members that are small charities and they benefit from our way of helping them gain funding, gain volunteers and get remembered often when their budgets are tiny. Smaller than the plankton whales love to eat in the mouthful! It's not hardwork to support a local project. Like and share their posts. Offer a few hours of your time. Find out what their wish list looks like (we encourage all charities that join us to share that with our confidential business growth mastermind so we can work out how we can help them.)
For me, I had a serious mental health illness 20 years ago and the sea was my calm place. My escape. My sanctuary. And knowing the power the seas have on our planet I feel it's never been more important to do our bit. And what better way than on a beach with business owners, professionals and business development teams drinking delicious rose and picking up all the rubbish we find so it's nicer for everyone else that visits this summer!
Yes of course we will do some PR post event. And yes of course we will be promoting your small businesses as well as the amazing campaign by Hidden Sea. For me this business growth, networking and beach clean up event matters because it's about supporting local businesses ambitions and aims. Hidden Sea's ambition is to makes wine in a eco-friendly way, and use the profits to help fund ocean cleanup efforts. For every 6 bottles you buy, they'll pull one bundle of trash from the sea. How cool is that?
There's a massive island of rubbish swirling around in the Pacific Ocean alone that's damaging sea life. This wine project aims to remove it by funding boats to literally pull out the trash, bundle by bundle. They've already started clearing out loads of plastic, nets, and other junk and have even been spotted in the UK, in Cornwall working on their 7 seas project. And it's not just about the seas, this project is helping local people around the world. How connective is that? Bringing;
Better living standards.
More nourishing food.
Effective medical care.
Quality education for their children.
You can read more about their work in partnership with ReSea here.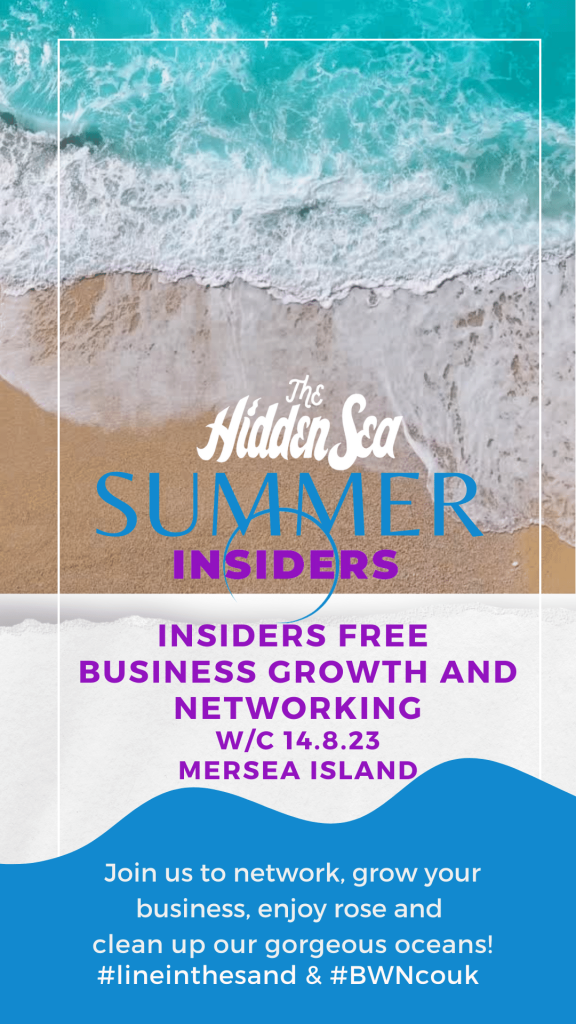 3 more things you can do to support the clean up of plastic from our seas and small businesses;
By sponsoring rubbish bundles as Insiders, you get to enjoy premium, organic wine AND chip away at that huge trash pile. It's a win-win! Plus Hidden Sea plants a tree for every bottle, so we'll be helping forests too. And we can promote your clean up ideas and support for a cleaner world through the website. Hidden Sea are using the #lineinthesand and we use #BWNcouk
The Hidden Sea will remove 100 plastic bottles from the ocean just for signing up for our newsletter what incentives does your newsletter have?
And if you place an order, for every bottle you buy, they will clear 10 bottles out of the sea. Do you know what we love? They address the greenwashing issue that is plaguing marketing and make clear promises how you know they aren't doing that. Do you know what greenwashing is and how to avoid false claims and watch out for companies making them?
The next time you pop a cork, that happy feeling that you just did something good for our planet. If you buy from a small business, that's what you create every time. Cheers!
Did you get 4? That's right, you can overdeliver. Hidden Seas, like The BWN / Insiders overdeliver. As a small business you maybe remembered for overdelivering, however do you remind customers how you overdeliver and the benefits of sticking with you?
To our members on holiday, in South Africa, Portugal, Dubai or Scotland, sorry we aren't hosting an event (yet) near you. If you host your own event use our hashtag and we can ensure we promote your inniatives on the website. All members get promoted on our site for free.
Still not joined us? £20 has never worked so hard and charities only ever pay 50%. Join here.
BUSINESS GROWTH, NETWORKING AND CLEAN UP EVENT INFORMATION
Thanks to the glorious British Summer (Yes, that's sarcasm) we've discussing this event on the Insiders (our confidential networking and business growth community) and we will meet on the best day of the week commencing 14th August. Children and well behaved dogs are welcome. It's a family friendly event since we know many of you are juggling a lot over the summer.
It is free to attend for all Insiders. As with all networking events, we will have an accompanying post on the confidential group so that members from Scotland to South Africa, can also network and get involved. Wherever you are take a picture tag us #BWNcouk and #lineinthesand so we can promote you on Instagram and Facebook too. We promise to do everything we can for you, your small business and the actions you take to make a difference.