June newsletter – events, news and opportunities for your small business
Every month we send out a newsletter to our members sharing news on events that are good for business. The events and exhibitions our members are attending so you can go along too. And training, webinars and blog articles you may have missed.
We get fabulous feedback on this roundup for business owners every month. Here's June's update for you to enjoy and if you are not signed up to our newsletter you can do that here.
Hi Business Owner,
We know you love this email arriving. It's jam packed.More jam packed than a sticky jam sandwich on a summers day. So grab a cuppa (you know you deserve 5 minutes) and read about;Exciting news from our members.Events they are hosting.Free networking and business training for you.Feedback on the exceptional AI webinar – you can still access that.And inspiring insights, educational advice, and opportunities to help you make more money and grow your business.Competition winner.Let's dive right in!
Insiders with benefits
It's not just networking, training and advice that Insiders get. You also get to write for our award winning website. If you are not a member you can be featured (£75 per article):Articles feature on our website.Are promoted in our monthly newsletter. You are reading this!Include valuable backlinks that support your SEO strategy.Feature in our social media on Instagram, Facebook and LinkedIn.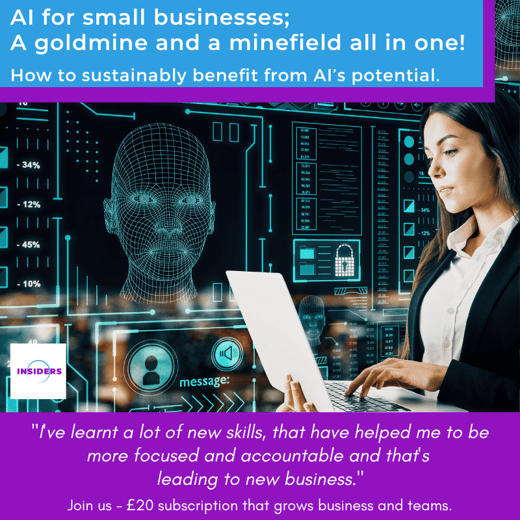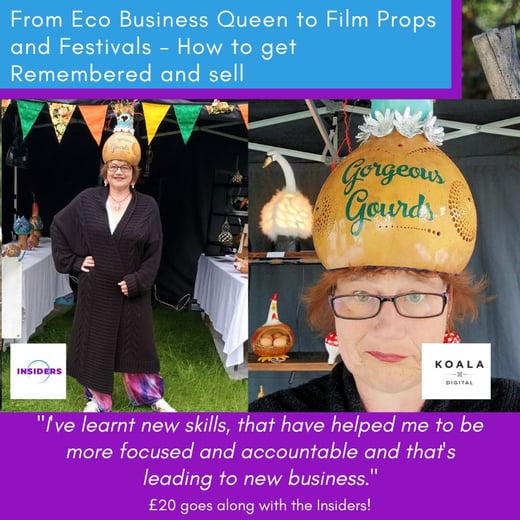 From Eco Business Queen To Film Props And Festivals
Amanda Rutland has definitely sussed how to stand out at events with her Gorgeous Gourds company. Read how here. Let us know if it inspires you too.
How UK Businesses Can Support Women in Uganda
When NLP expert and diet mindset coach Caroline Tyrwhitt was given the opportunity to speak in Uganda, it not only led to a dream holiday but also a wish list of ways UK businesses can support women looking to make a difference. Read this amazing story and pledge your support here.
ADHD at UK Record LevelsIs ADHD really on the rise?
Here member Michelle Shavdia from Find your spark shares her views and how it is important to your business to understand neurodivergence.Click here.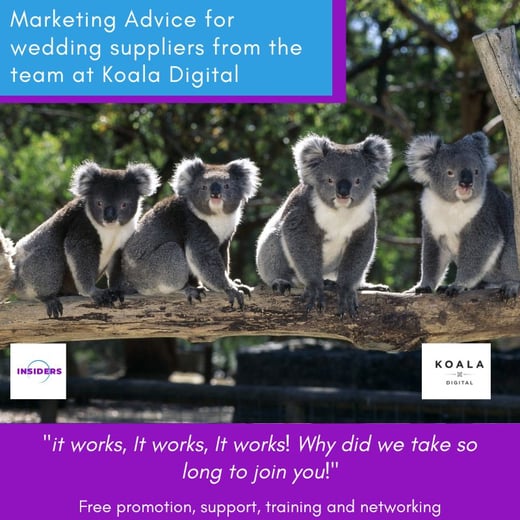 Marketing advice for the Wedding Industry Carla and James are members from Koala Digital and here James shares some exceptional advice for our members from the wedding industry. Read it here.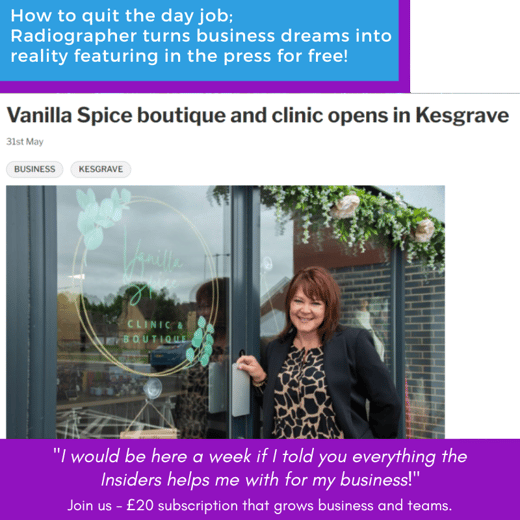 How To Quit The Day Job; Radiographer Turns Business Dream Into Reality!This is a great read about how you can turn a hobby into a business and how the Insiders genuinely help make business goals a reality. Click here.
Events Not just our networking events…
We share our members events too. It was great to see our members at the Colchester Mayor's Golf Day after a discussion on the Insiders Koala Digital attended and we saw our members at Kate Nudds beautiful Empowering Women day. If you attend any of these, please do say where you saw them.
INSIDERS – FREE Networking and Business Growth Training, 15th June 10am. To access this join the confidential mastermind group at 9.50am. First hour is all about you with 60 seconds and the second hour is all about training, mentoring support for each other – it's powerful stuff! 
JOURNAL DESIGN WIZARDRY – Canva + ChatGPT = your magic potion for super quick journal design. Learn more and sign up here. Only £9
FREE AI webinar – we've got the real buzz to talk all things AI as it's so good for business but a massive risk too. Don't forget you can watch the exceptional training from Rob Sayles anytime via the confidential mastermind group.
This is me. Artisan craft Market, Sharon Jenn will be there with her Timeless Furniture Art, Saturday 8th July. www.thisismecraftmarket.com
Essex Property Show hosted by members Belhus Property and with many members exhibiting including Sharon Jenn,16th July www.essexpropertyshow.co.uk 
Branding workshop with Tina Wing Photography. https://www.tinawingbusinessphotography.co.uk/brand-workshopPlease note we aim to promote members events from across the UK, so please do email your events for inclusion. thank you.
So how does the Insiders work?
With business men and women from every industry imaginable…It works how you want it too.
Some have been members for 8+ years and never access the networking, choosing to use the 50% discount codes for our courses.
Some only want to network and that's fine. You can do that at the monthly events and on the confidential mastermind group every day of the year if you wanted to.
Some only stalk us – we know you do and that's okay.
Some are more interested in the free promotion and there's a lot of that in  your £20 a month membership. Publication to our award winning website. promotion through our IG, FB and LI accounts – check out how many followers we have to see how many people that is we can get you in front of. 
Some have day jobs and are building a side income or looking to leave employment and launch their own business. For them they love the Quit the Day Job course and the mentoring and training on the mastermind group.
Some use it for market trends and to discuss new ideas and products they could launch.  Insiders will be honest with you, so the quality of the advice is exceptional.
Congratulations....To Lydia from Belhus Properties Every month one lucky Insider wins a course. There's a lot to choose from.Which would you choose?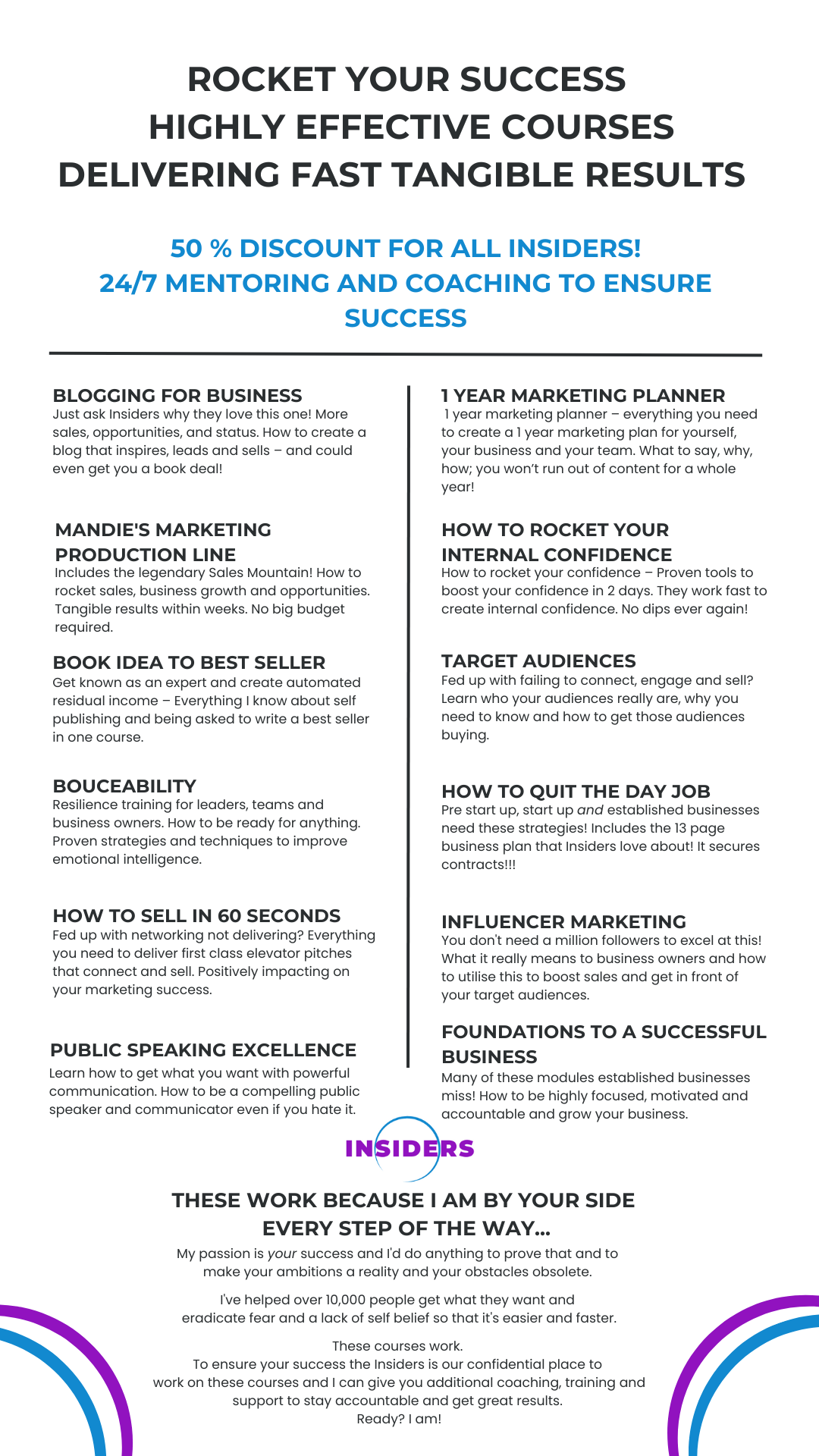 Shop
We are currently updating our shop, so while you can buy the courses listed, there are more new ones to come and you could pick up your next summer read.Don't forget if you read a book written by one of our members please do send them a review. Thank you. Explore our shop here
New Members… Say Hi to our new members, find their socials, add a comment and network.
Zoe Harris
Briony Lawton
Anneka Phakey
Eliana Hughes
New Sponsors.… Joining Herbology, Pangels,The Spark Company, Blessed CBD and Britannia Hotels on our sponsored banners are…
Quaz Digital Card.
The Cambridge Mask Company.
Beanstalk Savings.