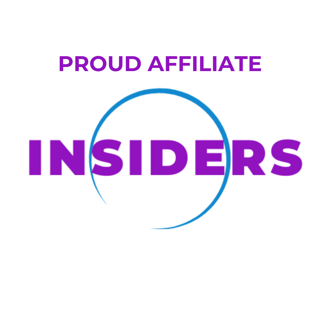 Got your logo?
Members love sharing their Insiders love!Check out our logo on corporate away day, events and artist 
Sunflower Artistry here.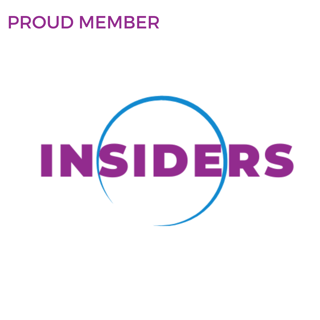 Every month we send a roundup of business owners news, events for business growth, free networking, competitions and advice to grow your business. If you didn't receive this, you can sign up here.

There's so many ways to grow your business it's hard to know what will work. Could £20 really do all this?
Each month we bring you a round up of what our members are achieving. It really is £20 a month, open to all, we even train your staff, promote your business and don't forget the free events.
And the best bit?
If it isn't for you, just leave. Few leave.  

Free Facebook Ads Training Webinar, 12.9.23 – 11am. 
Karen Rhodes lift's the lid on the secrets to Facebook Ads success. See below for all the info.The logo for you to use and share – proud members and affiliates.

Free networking. (Virtual and Face to Face.)

Competition winner and this months competition. Win courses and training worth thousands.
How to increase your mailing list by 3100%.4 new books from members. 
New members joining us this month, including a doctor and a bank. 
Who are your members – we told you they were diverse.

Want to feature? Email us.
All members feature for free.
We promote you.
Join us

Who are your members?
It's a question we get asked a lot and it's hard to communicate the diversity of our members easily since an organisation that was traditionally focused on women in business can have conations of "A bunch of women sat around drinking coffee."
Yes, really we've had this said to us!
The fact is this bunch of men and women;
**Sold £118,000 in sales via The Insiders in 19 months.
**Another increased their database by 3100%.
**Another became an multi-award winning business within 2 months.
**Another now has a feature in the local press every month.
**Another grew from 50 employees to 110.
**Another gained a contract through their local council without going through procurement.
Click here to meet our members.

No one seeing your website?
It's important to get the right links to your site and we can make it easier because Insiders write for our award winning website for free. Non members £75 per article.
Articles feature on our website.
Are promoted in our monthly newsletter. You are reading this!
Include valuable backlinks that support your SEO strategy.
Feature in our social media on Instagram, Facebook and LinkedIn.
Ensure members remember you!
Join here

New members.
This month we welcome;
Dr Seema Datta, Harley Street Doctor. Learn more here.
Jasmine Madhan, Metro Bank Learn more here.
Dino Tartaglia, Success Engineers. Learn more here.
Mark Darling, Darling Picture Framing Learn more here.
We can't wait to network with you and promote your business to our huge audiences.

Here we round up the latest articles and strategies for businesses like yours. We know they work, so let us know how you get on. Need a hand? Just post to the Insiders and a lot of business owners will be happy to help you too.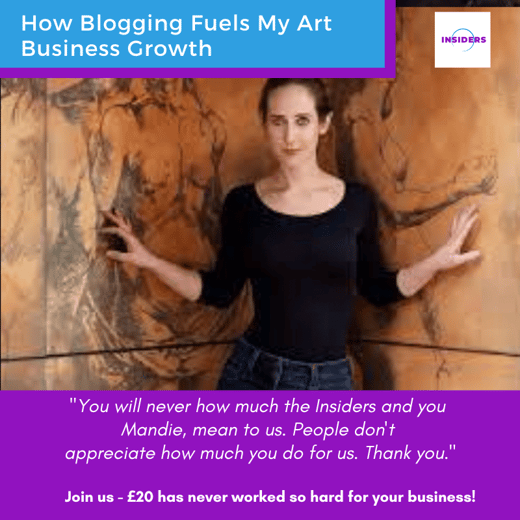 Blogging delivers a 3100% increase to your mailing list!
Yes we know that sounds crazy, however Midlands based Artist Charlie Kirkham shares how she bought the Blogging for Business course and it's led to some amazing things. 3100% increase is just the start! Don't forget all Insiders get a 50% discount on our courses. Read more here.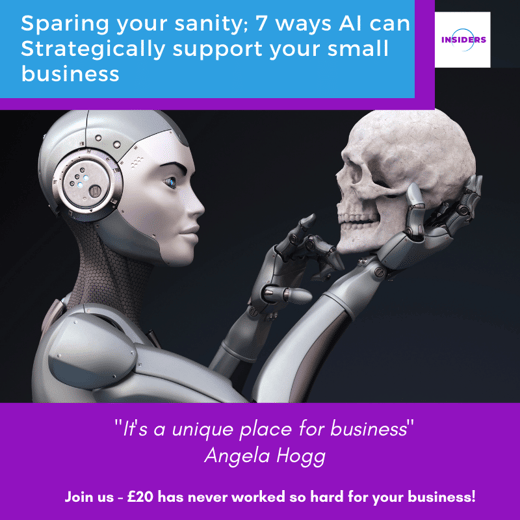 Using AI In Your Business
We always get our members ahead of trends, tech, platforms and ideas that can grow their business. Our members are very diverse from small businesses to large companies in multiple countries, this allows our members to collectively share ideas and ways to use tech in a variety of business settings.We started exploring AI and it's uses last year and the explosion of things like Chat GPT, Bard, Claude etc only peaked our interest.
Here our Founder Mandie Holgate, shares how her use of AI has altered.o! Read more here.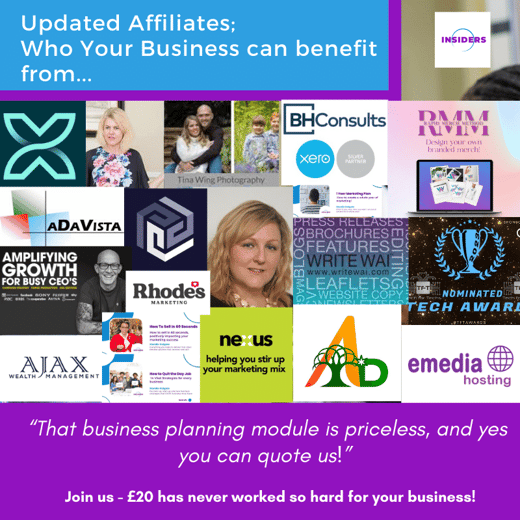 3 new affiliates – exclusive discounts for Insiders
It's not just business focused networking and business growth training. It's not just about the training and mentoring.It's also about the competitions. Courses. AND affiliates! 3 new affiliates on board this month, North and South Photographers, Graphic Design AND SEO Great to have you on board Koala Digital, Tina Wing Photography and Bentley Portraits. Read more here.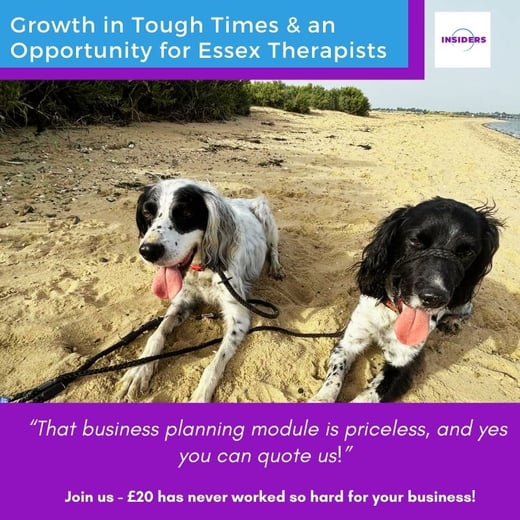 Growth In Tough Times & An Opportunity For Essex Therapists
Here Helen Watson, Insider and CBT Psychotherapist, EMDR & EFT Practitioner shares how the pandemic had a positive impact on her now fast growing business and an amazing opportunity for Essex therapists looking to grow their businesses.Working with others to make change is so rewarding. Only this week I receive a text thanking me, a year on, for the work we had done together. Click here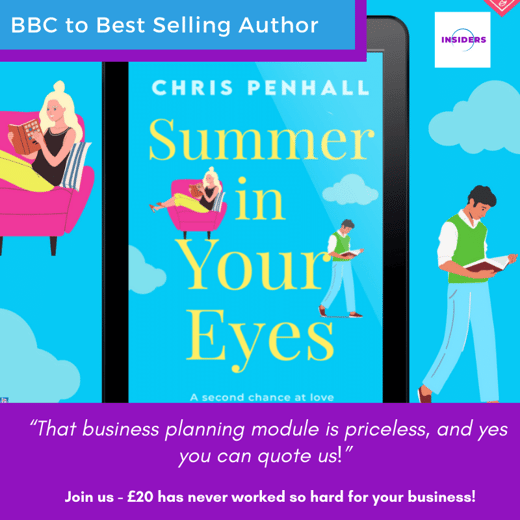 BBC To Best Selling Author
Founder of the BWN / Insiders Mandie Holgate met Chris Penhall when Chris was working on the BBC Essex David Monk show. Wind things forward a few years later and Mandie hosted the BBC Essex's 30th Birthday party at her house. Current presenter of the morning show Ben Fryer ended up in Mandie's hot tub when James Whale threw him in! So to say Mandie and Chris have known each other pretty well for years is an understatement. Read the amazing story here.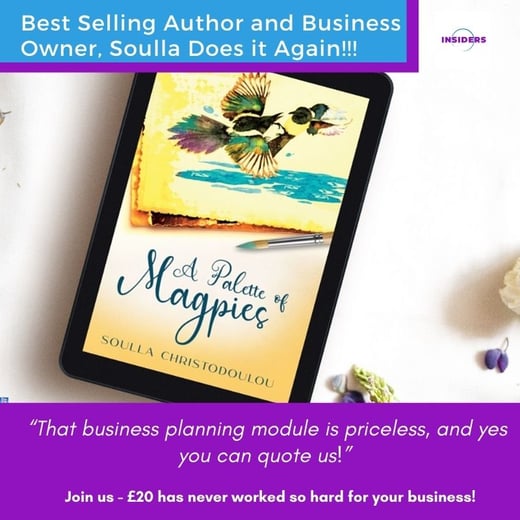 Best Selling Author And Business Owner, Soulla Does It Again!!!
Many will not know  Soulla joined our community of business owners and professionals after sending our Founder a heartfelt letter and book when Mandie Holgate's Husband was very ill. Not only is Soulla an active member and networker, being a best selling author Soulla is generous with her advice to help others achieve writing goals too Click here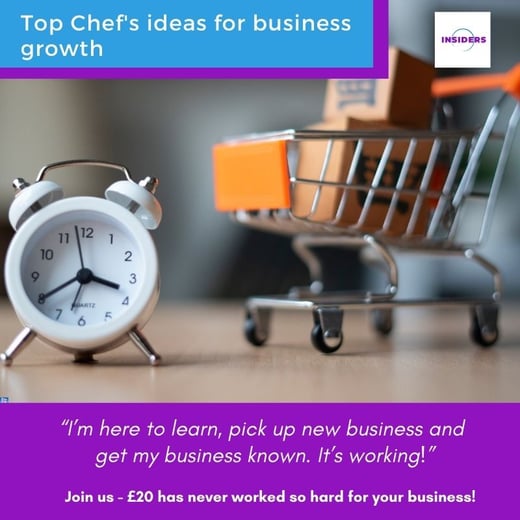 Top Chef's Ideas For Business Growth
Never did we think we'd say a trendy piece of kitchen paraphernalia would be a great analogy for what every business owner needs, But here we go with Top UK Chef's Paul Boorman Business ideas.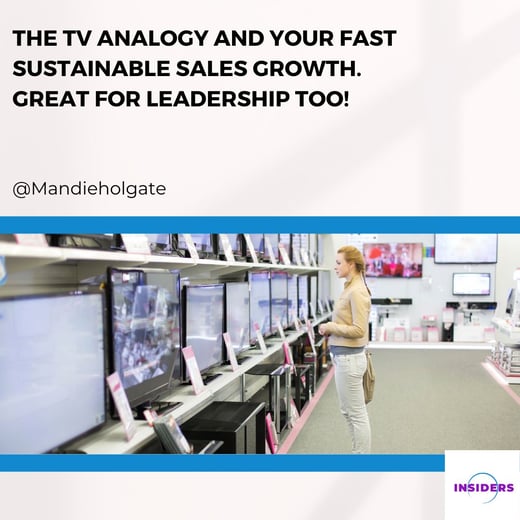 The TV Analogy and how to think people into a sale.How can buying a TV Tell us so much about buying suggestibility and how to make people buy your products? Read on here. 

EVENTS 
Not just our networking events…12.9.23 11am. FREE Facebook Ads webinar – Karen Rhodes has shared a link to the Insiders on our confidential mastermind group in preparation. You can post your questions for Karen too. You can access all webinars and training on the Insiders confidential mastermind group. We delete nothing and it's including in your £20 subscription fee. Learn more here.

21.9.23 10am to midday. FREE networking and mastermind for growth. 
1st hour. Talk about your business – hear from INsiders.
19.10.23 October free networking

At time of press we congratulate The Money Saving Mum, Caroline Beament on the publication of her first book. 21 days to master your money mindset and save with confidence. Welcome to the author club Caroline.
Did you know we have 4 best selling authors as members and 7 business owners actively writing their first book right now. Good luck.

Remember Insiders support Insiders so if you need help, do say.Got questions? Either respond to this email or contact mandie@thebusinesswomansnetwork.co.uk

£20 has never worked so hard in your business.With business men and women from every industry you can think of, it works how you need it too;Send your staff to us for training in marketing, blogging, communication, leadership, SEO, website design, confidence, resilience. Our courses and 24/7 mentoring is a very low cost way to grow your team.Some members only joined for the 50% discount on courses.
The Quit the day job course has a business planning module that a well established business used to secure a global contract!Some only want the networking, picking up new business and ideas to grow their business.
Some only stalk us – we know you do and that's okay.
Some only want the free promotion and there's a lot of that in  your £20 a month membership. Publication to our award winning website. promotion through our IG, FB and LI accounts – check out how many followers we have to see how many people that is we can get you in front of. 
Some have day jobs and are building a side income or looking to leave employment and launch their own business. For them they love the Quit the Day Job course and the mentoring and training on the mastermind group.
Some use it for market trends and to discuss new ideas and products they could launch.  Insiders will be honest with you, so the quality of the advice is exceptional.
Some just love the safe space to say anything and know someone will get it. Off loading can really help with the right people.

Congratulations….To Claire Martine.Every month one lucky Insider wins a course. There's a lot to choose from.Which would you choose from this list?

Joining us is hassle freeBecause business owners use us in so many ways, if it's not right for you, there's no minimum sign up period. 
Most members have been with us for over 10 years and new members can't get over how much you get for just £20 a month, but if your situation changes and you don't need us any more, we will miss your expertise, however cancelling is mega easy. It ensures we work very hard to keep you and you know we genuinely care about every penny you spend with us and will make it work for you and your business.It's a risk free way of trying our networking and business growth community.

Join here – it's just £20 a month