Funny how things happen – Norfolk Business Women You Will Love This!
Founder of The Business Womans Network (The BWN), Mandie Holgate shares her excitement and the weird coincidence that led to our newest team member joining us….
"I'd been invited to speak at the Norfolk Caistor Hall, Norwich event. And when I arrived I sat down to get a cup of coffee and this lovely lady sits next to me.
She sums up the new business women that walk through the door of our events, because she said "I've never been to one of these before I don't know what to expect". That always makes me smile, because one of the things that matters to us dearly is that everyone gets a warm welcome and that we have the same structure to every event wherever you go. I've been that nervous shy person (yes I used to be painfully shy and lacking in confidence!) and I dreaded walking into networking events!
From South Essex to North Norfolk you will hear business women tell you what to expect from us, and we care deeply that every single woman in business gets that networking experience – friendly, welcoming, reassuring, supportive and business focused. Denise Bretton was the coordinator at our Norfolk events and like every other coordinator at 10.30 Denise stands up and welcomes her guests and then reminds people of the structure so that those that are new to us, new to networking or nervous can feel at their ease.
To say I was sad when Denise told me that she needed to step down was understatement.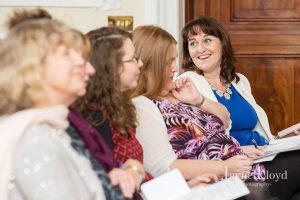 The BWN coordinators aren't a team, we are a family. And I respect and care about their families, dreams, businesses and big ambitions in life. What I love is that all coordinators feel the same. We meet up when they want some training or advice (I'm happy to do this up to once a month and I'm always there on the phone/text/messenger/pigeon) and so I feel we get to know each other very well and have shared a lot of opportunities between each other over the years. Not forgetting the kindness, support and friendship too.
So I'm sat here thinking "I will really miss Denise, whose going to look after our Norfolk events? And then the phone rings and it's this lovely lady I've sat and got to know only a few days earlier at The BWN in Norfolk!" We chat for ages and I don't feel like I've only just met her, but hey, that's The BWN. That's what happens, we start to build relationships that turn into good relationships and then lifelong friends. I know that some ladies that have networked with me have now moved away and will still drive for 3 or 4 hours just to meet up and have a coffee and "boost their confidence" with a session at The BWN.
I mentioned the news I'd just had and how sad I was feeling and the lovely lady says "well, I have been thinking for the last few days, The BWN was amazing, how do I get more involved in this? And so I decided to call you."
That's the interesting thing about us business women, we do worry far too much about phoning people. I know that there is a whole chapter in my book (Fight the fear) about picking up the phone, because;
We don't want to get in the way
We worry about saying the wrong thing
We worry about what people will think of us
We worry about looking desperate
The list is long!
And rarely accurate! The fact is picking up the phone (instead of hiding behind email) enables miscommunication to disappear, the risk of tonality or your own beliefs being interpreted or assumed incorrectly goes away and usually the opportunity for clear focus, new action and new business.
That lovely lady is called Olivia Bucher, and Olivia is a Financial Advisor at Anderson Wealth Planning Ltd.
We met up a few days later and  sat in the sun in a garden again I felt like I'd known Olivia for years. I'm really excited to welcome Olivia to the team.
That's the thing about life, you are sat next to a stranger and you have a nice chat oblivious to the fact that this person will feature heavily in your future.
Would Olivia have joined the team if I'd have chosen a different chair to sit in?
Would Olivia have joined the team if we hadn't had the chance to chat freely?
I don't know, but what I do know is that when the phone rings I know it's usually a great opportunity heading in my direction that is likely to be good for business women too.
I spend my life asking "Will this person/company make a difference to our BWN members?" and it has to be a yes for me to move it forward. With Olivia it was most definitely a yes!"
To learn more about Olivia and her Norfolk events click here
Olivia has a special offer to welcome you all to her BWN Norwich events to the end of the year – £40 for all four events to the end of 2018 AND get a free stand at any 2018 event worth £35. It's a mini Golden Ticket! Just contact Olivia to learn more.