The BWN launches in Tendring!
We are so excited to announce the launch of our Tendring events, hosted by Nadine Gamble from Utility Warehouse.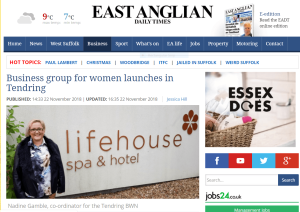 Nadine has been attending The BWN in Colchester and Braintree, Essex and can't wait to welcome you all. There are literally thousands of business owners in the Tendring area and we look forward to supporting their success.
Our launch event speaker is our Founder Mandie Holgate so we know it will be a really fun, interactive, informative session from this best selling author and speaker. You can read the full story in The East Anglian Daily Times here.
And to book your ticket, learn more or suscribe to information about future BWN events follow this link www.thebusinesswomansnetwork.co.uk/tendring-2/
We are looking forward to seeing you!