How to quit the day job – radiographer turns business dreams into reality!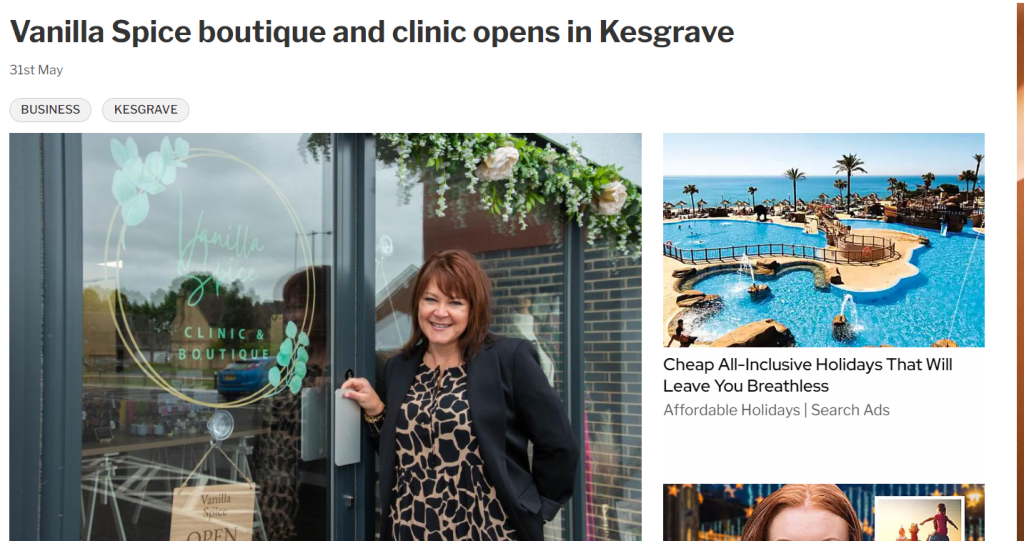 Lynn Bolton has been a member of our business network for many years trying many things alongside her day job as a radiographer. Recently Lynn admitted at one of our networking events (we have permission to share) that she had had enough.
"The NHS is not a very happy place at the moment" She told us.
Like many keen business owners, Lynn's plans were put on hold during the pandemic, however post pandemic, with the challenging times we face Lynn made the decision to go for it!
Jumping on board with the networking, mastermind group and courses, starting with How to Quit The Day Job course Lynn is now the proud owner of Vanilla Spice in Suffolk providing women with fashionable clothing, beauty treatments and menopause support.
Before her launch Lynn turned to the Insiders for advice, admitting she didn't know where to start and how to feature in the press we guided her on what story to tell, how to tell it to engage with her potential customers and take the business forward. We've also helped Lynn update her social media platforms;
After this we turned to getting in the press. And this week saw her first PR!
We joked on the confidential mastermind group where professionals and business owners collaborate and support one another "When will you be on BBC Suffolk?" And the reply came "Suffolk News is next!"
Lynn admitted that our Founder and business coach Mandie Holgate pushed her outside of her comfort zone by getting in the press, but we are sure you will agree this is a great story. To read the first of Lynn's free PR, head to Ipswich Star and we will keep you updated on how business goes. Lynn admitted "Leaving the NHS was one of the hardest things I've ever done, but I know I've made the right decision. I know how I can help women to feel amazing and love who they are, I've trained extensively, specialising in microdermabrasion, needling, peels, nutrition, personal training, Reiki and even Indian head massage – women will leave their time with us at Vanilla Spice, feeling amazing!"
And if you are in Suffolk or on the border into Essex and visit Vanilla Spice, do mention where you first learnt about this fabulous new place to feel good and look good. Thank you.
Not in that part of the world? You can explore all Vanilla Spice has to offer here. and remember to make a small business owner happy, say "Hi" on Instagram, LinkedIn or Facebook. It makes us all smile!
If your small business is not flourishing, you are responsible for sales in your company or wish to launch your own business, join us for 24/7 support and advice that fits around whatever fills your days. You can learn more and join us here.