Networking with ADHD? What you need to know
What are the three signs of ADHD? And what is networking like when you have ADHD?
Michelle Shavdia, 39, founder of Find Your Spark and a Start Up Award finalist, is on a mission to raise awareness into the misunderstood condition of ADHD. This is to help those who have ADHD or suspect they may have as well as those who have a family member, friend, colleague, or client with ADHD. Her reasoning is to prevent the constant hurt that those with ADHD feel through the misunderstanding of others. This ignorance is often not their fault, people are still not aware.
Michelle herself was late diagnosed with ADHD at 37 years old. The reason for the late diagnosis is owing to the commonly erroneous notion, that ADHD is something only 'hyperactive, naughty boys have' This led to her being missed and misdiagnosed many times over and this would have been the case for many other females and inattentive males.
The three signs of ADHD are inattention, hyperactivity, and impulsivity. As above, the hyperactive, impulsive presentation is what most people typically think of when they think of ADHD. However, there is also ADD, which is the inattentive type without the hyperactivity. Girls can be more likely to suffer from the inattentive type although this is a generalisation as boys too can suffer from ADD too. This can look like daydreaming, feeling anxious or sad, being ditzy, shy, picking at cuticles on skin and having trouble maintaining friendships.
Michelle is now an ADHD coach and is passionate about creating a society which is more aware, understanding and accepting of neurodivergent differences. She is also incredibly passionate about helping, supporting and making a difference to the lives of her customers and clients. These are parents, young people and adults with ADHD. Find Your Spark was a finalist in the 'consumer services' category of the Start Up Awards, 2023 to recognise the work she does with consumers of the Find Your Spark service.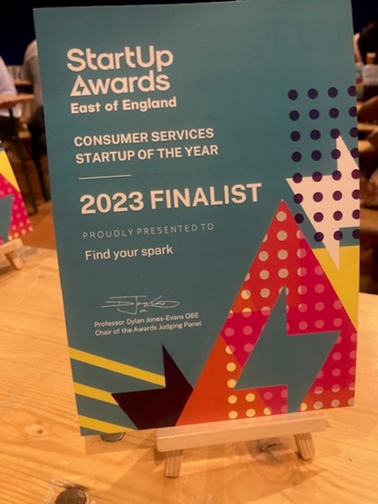 Find Your Spark, Start Up Awards East of England's consumer service finalist of 2023.
Michelle, a member of the Business Women's networking group, has also learnt that networking for ADHD can present some unique challenges as one of the core symptoms of ADHD is keeping focused. This can make it challenging to engage in networking conversations, particularly in environments with distractions or when multiple conversations are happening simultaneously. Therefore, it may be helpful for someone with ADHD to choose networking events which are less overwhelming to allow you to better concentrate on individual interactions.
Another symptom of ADHD is impulsivity which may manifest in interrupting or talking excessively, not allowing others to speak. Therefore, taking a moment to pause before you respond can be beneficial. Organisation and time management are other symptoms, so keeping track of important details and following up with conversations a challenge. Michelle finds writing everything down in the notes of her phone as a reminder to her useful but still things slip through the net.
Anxiety is linked with ADHD and that can make networking more challenging as can the rejection sensitivity dysphoria. Whilst there are many challenges, people with ADHD have lots of strengths such as creative, innovative ideas which bring fresh perspectives and unique insights to networking conversations.
Michelle is sharing these ADHD symptoms, challenges and strengths with the public on July 18th in Colchester and August 20th in Tiptree as well as on various podcasts such as the ADHD Mums podcast, the Aspie World will be on BBC Essex again on 27th July!!
Come join us on 18th July or 20th August to identify ADHD symptoms, strengths and challenges and develop coping skills.
Please email amanda@findyourspark.co.uk and visit www.findyourspark.co.uk for further details.
Testimonials from the last session include: 'I loved Michelle's passion and energy and hearing hers and other people's stories.'
Register for these professional ADHD Coaching sessions via Eventbrite: Copy of ADHD Awareness Group Tickets, Tue 18 Jul 2023 at 19:00 | Eventbrite and this one on 20th August specifically for parents: Supporting your Neurodiverse Child Tickets, Sun 20 Aug 2023 at 10:00 | Eventbrite.
These will be supportive spaces where you can learn, explore, and receive help. On the back of the sessions, we have run thus far, we are looking to run ADHD self-care sessions so please get in touch to express your interest if this would be something you would value.
We look forward to hearing from you and possibly seeing you there!!!
Photo of Michelle Shavdia from Find Your Spark, delivering the ADHD Awareness session to adults, young adults, parents and professionals.