Update; Can I really take my business online?
We first heard from Sarah from Sarah Everett Photography in late April. Sarah bravely admitted that lock down and Covid 19 were damaging her business mindset as she balanced business, 3 young children and her husband's business too. Not surprising right?
We knew it was going to be tough for many of our members and so we ended March looking at ways to grow your business even if we couldn't physically network with you.
In all our networking events we added a 1 hour free coaching from our Founder Mandie Holgate (international coach, author and speaker) and we have heard some great results that business women are getting and here Sarah shares a fabulous update on how her business is growing excitingly in these new, challenging times.
"Thank you again for inviting me to be a part of the BWN blog. It's been a great boost to be featured in the media. Things are starting to pick up and hopefully that continues. Here's what happened for me since that networking event in April…
A photograph of my daughter playing hopscotch was chosen from over 3000 entries by Historic England as part of their collection Picturing Lockdown. Just 100 public images were chosen.
I have to admit I was beaming from ear to ear when I got that email!
I had to keep this amazing news to myself for 3 entire weeks, until the day the collection went public. And what a day that was! I had no idea that my image was to appear on both BBC Look East and ITV Anglia, including my name being mentioned. I even had a congratulations tweet from Will Quince.
I created this image whilst on the way home from capturing some of my neighbours as part of my Doorstep Diary. Having this beautiful photo of my daughter entered into their archives was made extra special to me since she has accompanied me on each photo walk with her little notepad of addresses.
Next came something I've never done before, I decided to contact the Gazette to see if they'd like to run a story about me. To my delight they came back to me with a yes, they would like to cover this on a two page spread! A lovely bit of positive news amongst all the difficulties we are all facing. Turned out it was on the centre page, it still feels a bit surreal.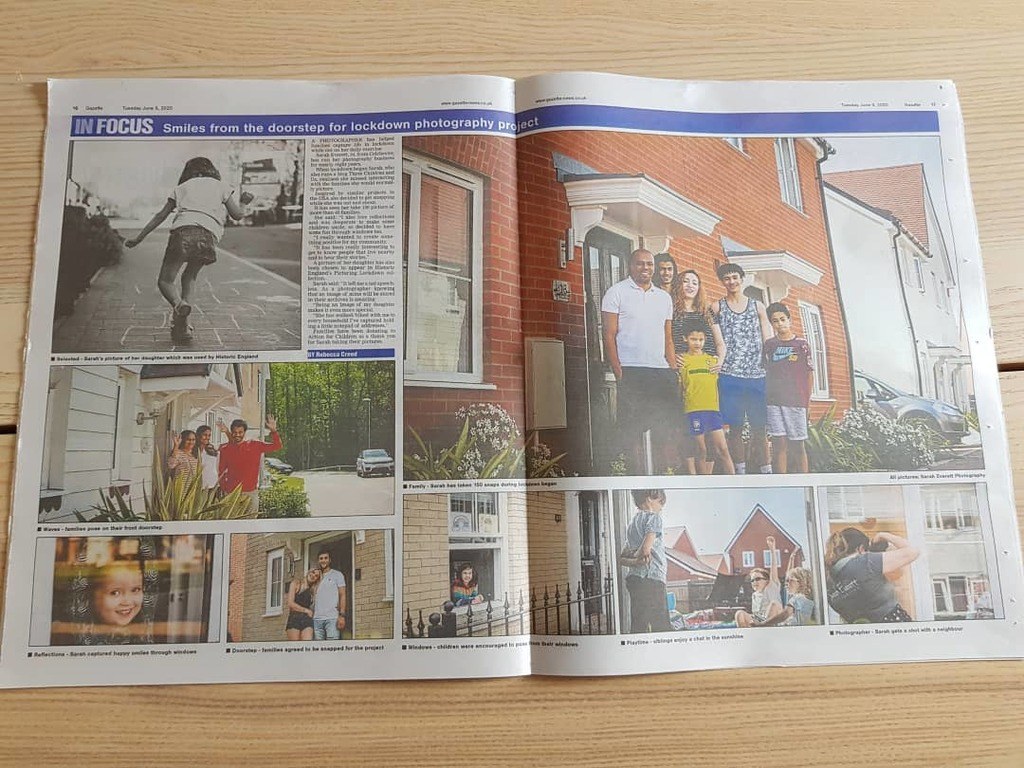 But it's taught me never to shy away from contacting the media, they are simply normal people with a job to do. I gave them a lovely story complete with images – now to be framed on my office wall as a reminder."
We are so pleased to hear of Sarah's successful project, achievement and free PR. Over on the Insiders (Our confidential mastermind group – learn more here) we have been looking at how to help you be a thought leader and get in the press. And Sarah is not the first Insider to get her first free PR this month! We are very proud to support you and will do all we can to protect the success of women in business.