Surprise Global Honour for Insider Robyn Banks
Such a surprise…
Many of you will already be aware that I am a Lion!  That is to say I am a member of Lions Clubs International (LCI).  LCI is a multinational worldwide charitable service organisation of over 1.3 million members.  The primary focus is to assist members of the local/global community in times of need through voluntary service.  We do a lot of fund-raising!
The organisation is a collective of Clubs; clubs make up a District and several Districts make up a "Multiple District"  – in the British Isles we have 8 Districts making up the one Multiple District.  4 years ago I joined as a Lion; 2 years ago I was asked to be a District Officer; 18 months ago it was as a "Multiple District Officer ("UK") (in this job I have to attend overseas meetings) and for the last year I have also been the officer for two more Districts as well.  ALL of these positions involve my "bread and butter" work as a Data Protection Consultant. I'm also the affiliate for data protection to the Insiders, The BWN membership group for business owners, charities and part time business owners.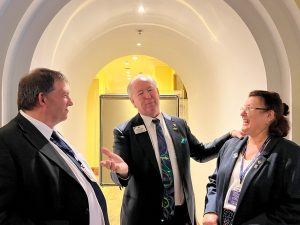 I am not going to lie – it hasn't all been plain sailing! As with business, some members do not like the compliance message – some have even tried to try and evict me from Post! However I stay true to my convictions that my advice is the appropriate solution to enable the members to continue to conduct their service as they want to without falling foul of the laws and it seems to have earnt the respect from Senior Lions – Lions of longstanding who have worked their way up in the hierarchy (yes as with all large organisations there is a hierarchy!).  I just see myself as doing the job I have been appointed to to do this.
So imagine my surprise and shock when I attended my first MD ("UK") Convention at the beginning of May to be awarded an "International President's Certificate of Appreciation" – this is a high honour in Lions.  The international President is the "top" Lion in the world and you are awarded this honour only by recommendation for your efforts.  I had no idea it was coming and am so grateful to have my efforts recognised in this way.
I wanted to share this with the wonderful business owners at the BWN because it's so important to get things right in business. When you know you are doing things right and the risks of getting it wrong, it can be hard to keep going – I say, keep going! Because the right people will listen, you will achieve some amazing things. Now if I can just get business owners to take note…"
We will help you with that Robyn!