Marketing Advice for wedding suppliers.
James Kearney and Carla Beard from Koala Digital have only been members for 6 months, however they've already helped a lot of members (Insiders) and proved very popular at our networking events online and face to face helping to grow businesses. Here the team share top advice for anyone looking to work in the Wedding industry.
If there is one industry that will always rely on independent suppliers, it is the wedding industry. With over 250,000 weddings taking place in the UK every year, (well, apart from the "covid" years the entire wedding industry would rather forget…), there will always be a huge audience to market your services to. But even though your target market is large, it goes without saying this is an incredibly competitive industry! If you want to be successful then you need to do two things. The first is pretty simple…be great at what you do! But for the sake of this blog let's just assume that you have the first thing in the bag (and if not, why not?!). The second thing? Promote and advertise your business in the right places and to the right people. If you have an amazing service and market it to the right audience in the best way possible then you are well on your way to becoming an extremely successful supplier!
Before we continue, this is probably a good place to introduce ourselves. We are Koala Digital, a digital marketing agency specialising in SEO and website design, who count several wedding suppliers in Essex as very happy SEO clients. SEO stands for search engine optimisation and is used to rank websites on search engines such as Google. But back in 2018, Koala's Director, Carla Beard, and Content Manager, Lee Woods (who are partners outside of Koala), launched Beyond Bar Hire, a mobile bar hire service for weddings and events in the Essex area. What originally started as a supposed 'side business' to earn some extra cash at the weekends, grew into a hugely successful business that became too busy for us to manage alongside our day jobs with Koala Digital. So at the end of 2021, we sold Beyond Bar Hire to one of our SEO clients, who also happens to be deeply involved in the Essex wedding industry, award-winning caterers, Plenty of Thyme. The following advice is based on our experiences in successfully marketing Beyond Bar Hire.
Our marketing advice for wedding suppliers
Unfortunately for wedding suppliers, when it comes to successfully marketing your business it can be a bit of a minefield. You are probably bombarded with emails and calls offering adverts here, a stall at a wedding fair there, or promising to get you to the top of Google. The question is, what works and what should be avoided? How should you invest your hard-earned cash when it comes to marketing your business?
The truth is there is no set plan that will work for everyone. Every business is unique, and what works for, say a florist, may not necessarily work for a wedding DJ. But that being said, we do have some marketing advice for wedding suppliers based on our own experience that should be helpful, regardless of your actual service (especially if your business is relatively new). 
Wedding Fairs
If you are a wedding supplier, then surely a wedding fair jam-packed with your exact target market is exactly where you should be showcasing your amazing services, right? Well…not always as it turns out. Whilst on paper a wedding fair sounds like a no-brainer for a wedding supplier, the reality is the larger ones can be a bit of a cattle market. The brides-to-be attending have so many suppliers to get through it can be a struggle to stand out, especially if there are several suppliers in attendance offering similar services to you. At the larger events, it is common for the brides to be there just in case they have missed something, or are curious as to what else might be on offer that they hadn't thought of. The chances are high that they have already booked the venue, catering, DJ, band, etc etc. So if this is what you offer then the larger wedding fairs may not be for you.
With so many people wandering from stall to stall it can become a case of feeling like you are selling fruit on a market stall, trying to engage with anyone that walks past regardless of whether they actually want fruit or not. By this, we mean with such large volumes of people it can be hard to forge any real supplier-client relationship. Plus, these larger events can be quite pricey to attend, so depending on the cost of your services you may have to get quite a few bookings to break even for the event. But this is not to say that wedding fairs should be avoided, you just have to consider whether you feel they are worthwhile for your specific service. It really depends on the event, so it may be that with the larger events you find which ones suit you through experience.
Open days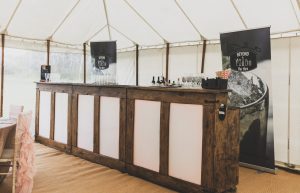 In our experience, we had a better response (and got more bookings) from smaller wedding fairs which guaranteed only one supplier per service. Or even better, many wedding venues will hold open days where they invite a supplier for each wedding service to exhibit together so that potential customers of the venue can book everything they need for their wedding all at once, and see the suppliers set up as they would be on the wedding day. These types of events are invite-only, so it really pays to befriend the owners/managers of any venue you have a booking at (and why you should ALWAYS be amazing at what you do, at EVERY event). We were lucky enough to become friendly with several venue owners who loved our mobile bars, so they would ask us to exhibit on their open days. If you are a relatively new business and have yet to strike these relationships up, it might be worth contacting new and upcoming venues that aren't 'officially' wedding venues yet, or who hold the odd marquee wedding. Introduce yourself early and you could hopefully become their 'recommended supplier'.
Talking of recommended suppliers…
A very important piece of marketing advice for wedding suppliers is this…Make friends with other wedding suppliers! If you are at an event be sure to chat with the other suppliers. We always offered the DJ, band or caterers a free drink from the bar, which helped build great working relationships. Going back to our first point, if you offer a fantastic service, and that is seen by other suppliers, and you become friendly…well now you have a free ambassador for your business. Suppliers are constantly asked by their customers to recommend this or that, and suppliers will only recommend a service they believe is amazing. After all, if they recommend a supplier who turns out to be below par it will reflect badly on them, so it is in their interest to recommend the best. So be the best! And let other suppliers see you be the best! It may take a while to forge these relationships, but once you do they are a fantastic way of getting bookings as you essentially have your own referral team who are always talking to your ideal audience. If you are new to the game then there are supplier networking events you can attend to start building those relationships.
Many suppliers have a "recommended suppliers" page on their website, so the ultimate goal is to feature on as many supplier sites as possible. This essentially gives you a free advert with a link to your site. Brides will be much more likely to trust the judgement of the supplier they have booked, so this is a great way of getting bookings. And in return, you can create a "recommended suppliers" page on your site and offer to add those suppliers you feel are good enough to feature. But just to be clear, for this strategy to work you will need a user-friendly, well-designed website. This brings us to our next point.
You need a great website, and you need it to be found!
I know what you are thinking, here is where we try and sell you our website design and SEO services…and while you are more than welcome to get in touch to have a chat about how we can help with these, the truth is SEO was a massive part of our success. Why? By using our existing SEO experience we were able to make sure our website was visible to anyone searching for a mobile bar in Essex. But more of that in a minute.
When starting out it may be enough to simply have a business Facebook page as a means of advertising your services and for people to contact you. But the truth is, those suppliers with a modern, easy-to-use and informative website are much more likely to secure a booking than a supplier with just a social media page. Also, whilst we maintained a business page on several social channels, we found that the majority of enquiries came to nothing as social media users were very priced based. We lost a lot of admin time messaging potential customers back and forth, with the conversation eventually fizzling out without a booking. Website enquiries were always a lot stronger and more likely to result in a booking. As mentioned above, a website also allows you to be featured on the recommended suppliers page of other wedding suppliers' websites.
But back to SEO. The biggest benefit of having a website is capturing all of the Google traffic you would miss on social media. By using our skills in SEO we managed to get Beyond Bar Hire on page 1 of Google for many mobile bar related keywords. If someone typed "mobile bar Essex", we would be on page 1. This meant that 100's of people each month were finding our website through Google, resulting in heaps of enquiries. After selling the business, the new owners of Beyond Bar Hire kept Koala Digital as their SEO agency, and as a result, Beyond Bar Hire is in the top 3 positions on page 1 of Google for over 20 search terms. They no longer do any other form of advertising, and rely solely on the site for bookings. We have since gone on to provide even better results for Plenty of Thyme, as well as working with other wedding suppliers such as County Marquees East Anglia and DJ Scott Dewing. Making us a bit of an SEO wedding supplier specialist!
So there we are, our marketing advice for wedding suppliers, based on our own experiences in the industry. We hope this has been insightful, and if you want to discuss how our SEO expertise can increase enquiries for your service, or if you want to show off your talents with a brand-new, easy-to-use and beautiful website, get in touch with the Koala Team!